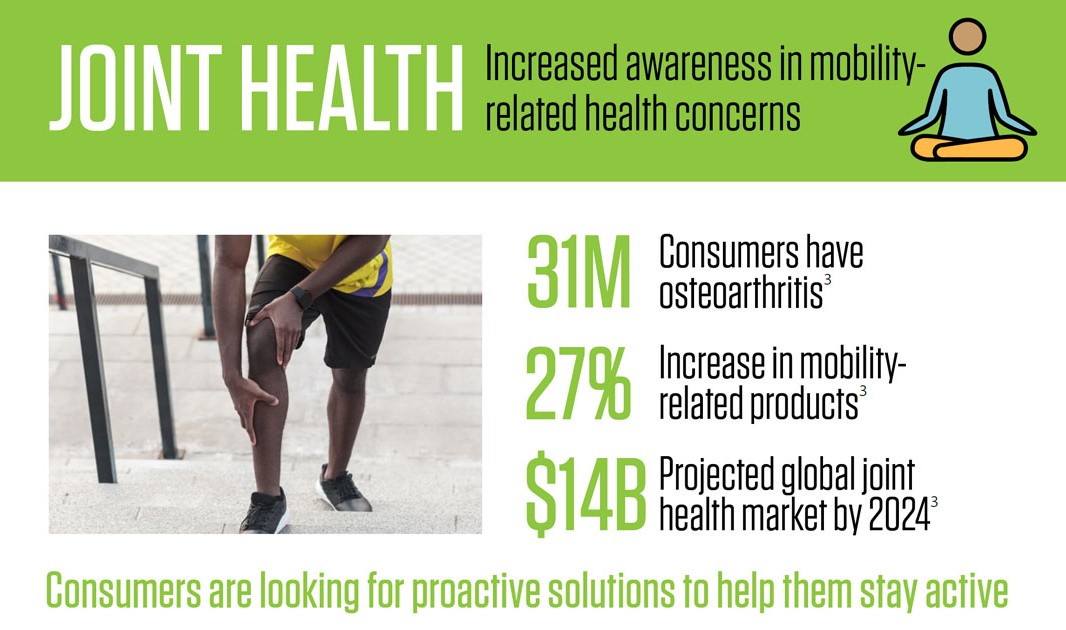 For the entire infographic and additional content, scroll to the bottom.
The Joint Health Challenge
Joint health is a broad term, meaning different things to different people. However, one thing is certain; a majority of people are concerned about their joint health as they age. Joint discomfort is not limited to the older demographic. Modern lifestyles challenge joint comfort for all ages with various exercise regimes, sports participation and the common aches and pains we all deal with to varying degrees.
Read More
The good news is that there are natural ways to support joint health and stay in the game of life. FlexPro MD® can help maintain good joint health. Offered exclusively by Valensa, FlexPro MD® is clinically proven to provide relief to people already suffering from joint aches and pains. One small pill per day can support good joint health, a natural solution for those of us who don't have time for the pain. There are hundreds of joints in the human body, the synovial joint being the most common movable joint in the human body. These joints have connective tissue, cartilage, and synovial fluid. We rely on healthy joints to allow smooth, easy movement. Good joint health means maintaining healthy connective tissues, cartilage and synovial fluid. Providing our bodies with the tools necessary to move, free from pain, is what most of us are thinking about when we say good joint health.
The FlexPro MD® Advantage
The exclusive, patented formula of FlexPro MD® addresses the key factors involved in maintaining joint health. A blend of Phospholipid-bound Omega-3 Fatty Acids, Zanthin® Natural Astaxanthin, and proprietary lower molecular weight hyaluronic acid is clinically proven to attenuate joint discomfort in as little as 7 days (as evidenced by WOMAC and VAS scores).
FlexPro MD® is clinically proven to be 3 times more effective than the current supplement standard of care, glucosamine/chondroitin. The FlexPro MD® clinically effective dose comes in a single, small softgel. Additionally, FlexPro MD® adds no salt to the users' diet. Compared to the large doses recommended for glucosamine/chondroitin therapy, which come in large pills and deliver additional salt. 
FlexPro MD®, based on a peer-reviewed published mechanistic study, was shown to be as effective as a leading NSAID.
Valensa's Three-Pronged Approach
1
FlexPro MD® formula contains Zanthin® Natural Astaxanthin. The powerful antioxidant capabilities of natural astaxanthin are quite useful for maintenance of good joint health and relief of joint discomfort. It is well known that reactive oxygen species can cause inflammation in human tissues. Reactive oxygen species are a necessary part of human biology, but often there is too much, which becomes deleterious. Astaxanthin is known to clear excessive reactive oxygen species (ROS) as well as lower TNF-alpha and COX2 marker expressions.
2
FlexPro MD® formula contains a sustainable source, phospholipid-bound, DHA/EPA Omega-3 rich supplement. Phospholipids are the most efficient way to deliver omega-3 fatty acids into the body as well as being the building blocks of cell membranes. It is well known that omega-3 fatty acids play an important role in reducing inflammation markers and protecting membranes. Our joints, just like every part of our body, are constantly regenerating, rebuilding. Phospholipid-bound Omega-3 Fatty Acids provide the tools our bodies need to efficiently complete that process.
3
FlexPro MD® formula contains a proprietary lower molecular weight hyaluronic acid. Hyaluronic acid is present in synovial fluid, cartilage and connective tissue; all of which are present in synovial joints. Hyaluronic acid nourishes the synovial fluid within the joints. Extensive clinical evidence suggests that hyaluronic acid, taken orally, can mediate joint discomfort and is absorbed by the body.
FlexPro MD® covers all angles of joint health care, naturally, in one small pill. The combined power of the antioxidant activity of Zanthin® Natural Astaxanthin, proprietary lower molecular weight hyaluronic acid, and Krill Oil is clinically proven to moderate joint discomfort, quickly and safely.
Valensa Advantage
The Valensa Advantage is one of quality and traceability. The Valensa team is comprised of skilled farmers, engineers and scientists. Vertical integration provides traceability, our GMP extraction facility (regulated by the FDA) provides peace of mind, and our investments in on-site quality control and quality assurance systems goes above and beyond. Our customers are welcome here, you will be impressed!
FlexPro MD® Clinical Trial Results
---

Percentage of Pain-Free Subjects based on WOMAC Test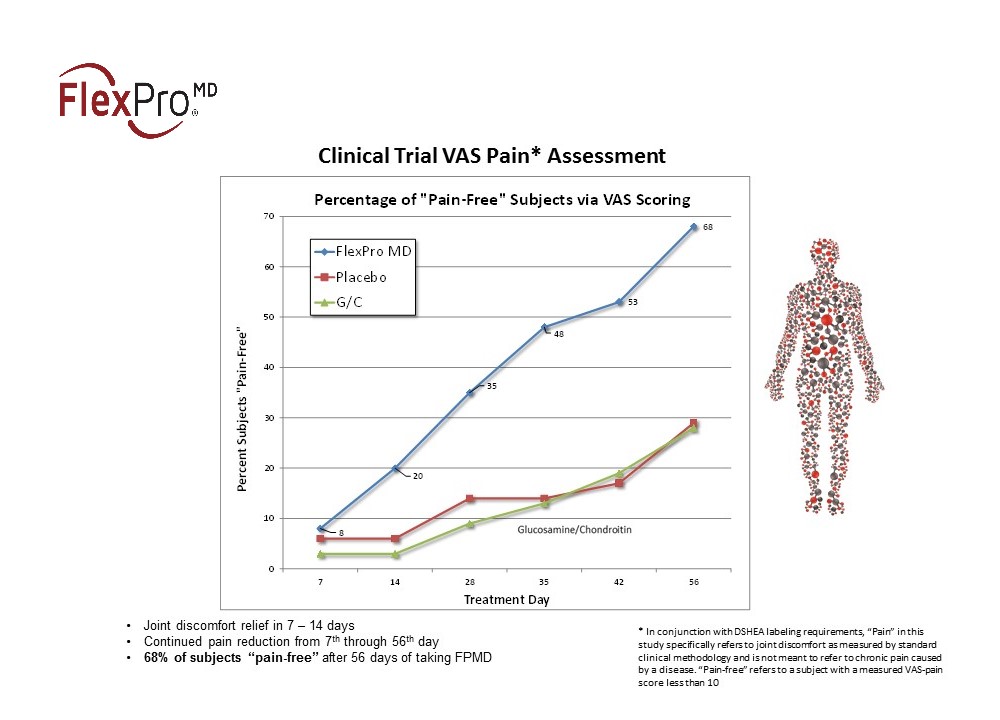 Percentage of Pain-Free Subjects based on VAS Self-Evaluation
| Industry Concerns | Valensa Solutions |
| --- | --- |
| Large Pill | Small Pill, Easy to Swallow |
| Commodity | Clinical Trial Formulation Intellectual Property Protection |
| Need for Multiple Benefits | Joint Care + Cardio Benefit |
| Efficacy | Fast Acting, Works in 7-14 days |
| Safety | Valensa On-Site QA, Valensa On-Site QC |
| Purity | Marine Stewardship Council (MSC) Compliance - ECO-HARVESTING® |
| Salt Load | No Salts |
| Condition | Patent | Product Name |
| --- | --- | --- |
| Joint Care | US 8,481,072 | US 8,557,275 | US 8,524,980 | US 8,507,757 | US 8,962,924 | US 8,999,373 | US 9,034,366 | US – 1 in Allowance | US – 3 Pending | DE – 3 Issued | EP & KR Pending | FlexPro MD® |
| Joint Care | DE – Issued | US – Pending | EP – Pending | FlexPro ES |
| Eye Health | DE – 2 Issued | KR – Issued | EP – Pending | EyePro MD |
| Cardiovascular | US 8,663,704 | US 8,728,531 | IN – Pending | Deep Ocean Krill® |
| Cellular Health | AU, DE, KR IssuedAU, DE, KR Issued | Spiruzan™ |