Delivering the most efficacious and clinically effective saw paletto extract in the market
To Request Samples
or Learn More
Delivering the most efficacious and clinically effective saw paletto extract in the market
What is USPlus® Saw Palmetto Extract?
USPlus®, a high-quality standardized lipidosterolic extract of Saw Palmetto, or LSESr, is verified by the US Pharmacopeia and has demonstrated the mechanism of action that:
Authentic & Clinicallly Effective
Valensa delivers an authentic and effective lipid extract (LSESr) for both prostate and hair health markets.
Prostate & Urinary
Health Benefit Claims
A standardized LSESr, like USPlus®, can:
Support the quality of life in men with LUTS (Lower Urinary Tract Symptoms) at the clinically effective dose of 320 mg/day
Effectively support urinary flow and control
Support healthy prostate and urinary tract function, with less nighttime awakenings
Hair Health
Benefit Claims
A standardized LSESr, like USPlus®, can:
Support the hair follicle
Support hair regrowth and thickness
Support hair health
Proven Mechanism of Action of Saw Palmetto Extract
There is variable quality within bulk extracts in the supplement market worldwide. Few meet USP standards.
High-quality standardized extracts are more effective at inhibiting 5α reductase 1 & 2
- Several free fatty acids in saw palmetto extract, including Oleic, Myristic, and Lauric acids, inhibit 5α-reductase enzymes.
Quality lipid extracts can support healthy prostate and urinary function and support hair health* - Standardized LSESr improve IPSS scores and improve urinary frequency.
- Standardized extracts support the hair growth cycle and balance the androgenic cycle.
Our data shows that USPlus® is able to inhibit 5α-reductase enzyme 1 and 2, similar to the leading herbal medicine product in Europe, Permixon®.
Inhibition of 5α-Reductase 1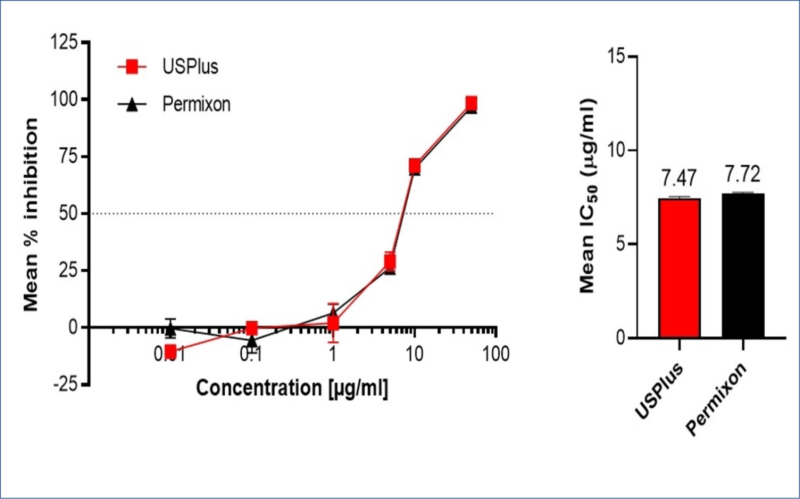 Inhibition of 5α-Reductase 2
Permixon® is a registered trademark of Pierre Fabre Medicament
Cartwright et. al. Lipid profile and potency of saw palmetto extracts (USPlus® and Permixon®) for inhibition of 5α-reductase 1 and 2. Manuscript in development.
*This statement has not been evaluated by the Food and Drug Administration.
This product is not intended to diagnose, treat, cure, or prevent any disease
High-Quality Oil Extract is Key
Only USPlus® meets the profile of a quality, standardized lipidosterolic product.
The Saw Palmetto extract market is flooded by ineffective and poor quality products. Results show that other products are a customized mix of ingredients, and do not deliver a clinical strength extract to support prostate or hair health. Third-party verifications like the US Pharmacopeia are critical in this category for brands and their consumers - and that's where Valensa's USPlus® delivers.
Powdered Supplements
Lack lipid content
Lack lipid profile
Lack effective dose
Non-verified Extracts
May lack full phytonutrient profile
May fail to meet standardized profile
May not be authentic
Only high-quality saw palmetto oil extract (lipidosterolic extract of Serenoa repens) has demonstrated consistent effectiveness in clinical studies. Most products contain inexpensive crushed berry powder which has no clinical data showing benefits for men.
USPlus®'s purity and potency comes from an eco-friendly, patented, and proprietary extraction process that yields more of what nature offers from every berry.
The Valensa Advantage
USPlus® is anchored by the GEMS Supply Chain of Excellence program – and is backed by the gold standard in the nutraceutical space: US Pharmacopeia (USP) verification. Only Valensa offers a vertically integrated supply chain for saw palmetto extract, with both principles ensuring authenticity, potency, and purity.
The 4 Pillars of our GEMS Supply Chain Excellence Program:
The 4 Pillars of our GEMS Supply Chain Excellence Program:
Patented DeepExtract® Process:
Unique ultra high pressure, Supercritical CO2
Green technology - no hexane or ethanol
Closed loop system - no contamination
Optimized yield and standardized profile
USPlus® is the 1st and only saw palmetto extract verified by the USP. What achieving USP verification means:
End-to-end comprehensive, rigorous process
Fully integrated certification of quality sourcing, extraction process, finished product consistency and purity
Verifies the standardized profile is consistently met
Confirms the ability to deliver an effectine lipidosterolic product to the market