New video and USPlus® logo reflect company's commitment to truth and transparency for consumers
ORLANDO, Fla. (January 27, 2021) — Since the launch of USPlus® in 2002, the industry has been faced with a dramatic shift in product quality, largely due to the proliferation of crushed saw palmetto berry powder supplements and adulterated products that simply do not work. So, Valensa introduced a new video and redesigned the USPlus® logo to reinforce its approach which has been confirmed by a recent scientific review of clinical research on lipidosterolic extracts of saw palmetto.
Valensa has championed the value proposition for saw palmetto lipid extracts by commercializing its USPlus® brand, based on science which shows that a quality lipidosterolic extract of saw palmetto improves prostate health and quality of life for men with lower urinary tract symptoms (LUTS). In the US alone, 31 million men age 50 and older are affected by Benign Prostatic Hyperplasia (BPH), corresponding to a market worth $3B annually. Nearly half of these men (14 million) experience LUTS associated with prostate enlargement, including: weak stream, urgency to urinate, increased night time urination, and dribbling.
The clinical studies confirm:
The clinically effective dose of saw palmetto is 320 mg per day.
A lipidosterolic saw palmetto extract has been shown to improve lower urinary tract symptoms.
Dried berry powder supplements do not have the lipid profile to be beneficial.
USPlus® is the first and only lipidosterolic extract verified by U.S. Pharmacopeia (USP) to contain the required fatty acids, phytosterols, and other phytonutrients required for a quality prostate health product.
In the new design of the USPlus® logo, Valensa has embraced purple to signify the company's commitment to harvesting ripe berries, which are purple in color and will deliver the right lipid profile.
Valensa also adopted a droplet of the saw palmetto extract as the visual to accompany the logo, to further drive home the point that not all saw palmetto products are quality lipid extracts, required for effectiveness. This is reinforced by a revised tagline, "Pure Lipidosterolic Extract" underneath the new purple stylized logo.
OLD LOGO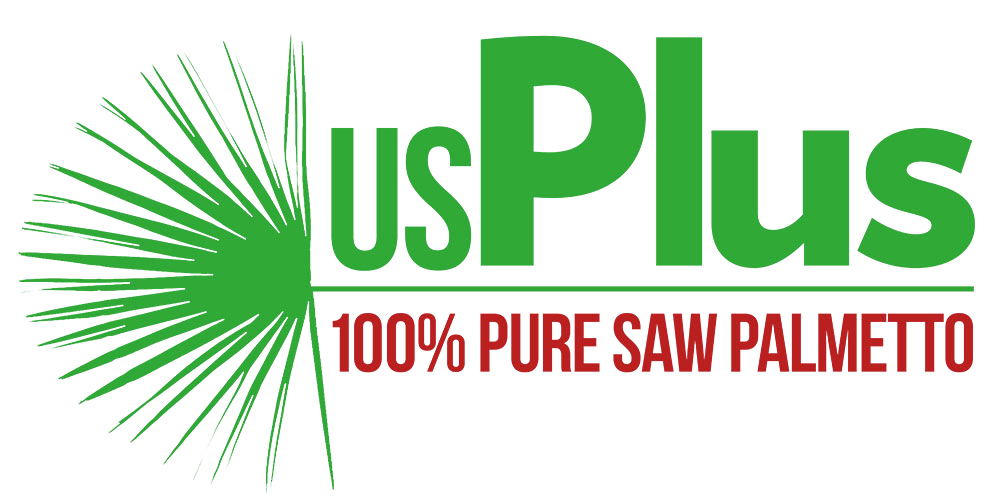 NEW LOGO

"Our commitment to harvesting ripe berries, and use of our DeepExtract® supercritical CO2 technology to capture all the important lipid compounds into the finished product, USPlus®, is now reflected in the logo," stated Stephen Hill, Vice President, Product Development, Quality, and Regulatory Affairs for Valensa, who oversees the analytical laboratory capabilities for the company. "The new stylized logo more clearly reflects the rich color of the extract produced by our extraction process. Analytically, we know the lipidosterolic compounds are responsible for the effectiveness of a saw palmetto extract. This new logo reflects our commitment to consistently extracting all the important phytonutrients, and quality-checking to verify that the chemical profile in the oil meets the highest standards."
An effective saw palmetto supplement is a lipid extract, not crushed dried berry powder, with a deep color reflecting the presence of key lipid compounds, according to Hill.
Valensa CEO Umasudhan (Uma) Pal. said, "We updated the logo to reflect our expertise and leadership from harvest through the manufacturing and extraction process. For USPlus®, it's critical to distinguish the difference between the effectiveness of a lipidosterolic extract of saw palmetto from ripe berries to the ineffective crushed berry powder supplements."
With many products on the market with inconsistent profiles of what's needed for effectiveness, Valensa offers its customers and partners a no-cost service to test saw palmetto products to assess authenticity. For details about this analytical service, email moreinfo@valensa.com, and learn more about USPlus® at valensa.com/vproducts/usplus/.
About Valensa International
Valensa International is a leading innovator of pure, science-based, clinically-effective nutraceutical solutions proven to benefit health and wellness. For 20 years Valensa has partnered with nutraceutical, food and pharmaceutical companies to bring condition-specific solutions for human and companion-animal well-being.
Valensa's Deep Extract® supercritical Co2 extraction process and state-of-the-art microalgae manufacturing enables the production of proprietary ingredients that are a part of clinically-based natural solutions for prostate, joint, eye, general health and healthy aging.
Valensa's commitment to safety, quality and the environment is represented by the United States Pharmacopeia (USP) Dietary Ingredient Verification Program, FDA Good Manufacturing Practice compliance, and sustainability practices.
Headquartered in Orlando, Florida Valensa's portfolio includes the following brands: USPlus® Saw Palmetto Extract, Zanthin® Natural Astaxanthin, Parry Organic Spirulina, and FlexPro MD® Joint Health Formulation. Learn more at valensa.com.
-end-
Note: These statements have not been evaluated by the Food and Drug Administration. This product is not intended to diagnose, treat, cure, or prevent any disease.
Media Contact: David Jahr, 1+ (805) 452-4180, davidjahr@mac.com, Valensa International, Media Relations