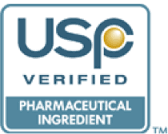 Valensa International's Parry Organic Spirulina Earns USP Verified Mark
ORLANDO, Fla. (June 10, 2018) – Florida-based Valensa International announces today the company's Parry Organic Spirulina is the first spirulina product to be awarded the distinctive United States Pharmacopeia (USP) Verified mark. This achievement was realized after Valensa was able to meet stringent and best-in-class requirements of the United States Pharmacopeia's Dietary Supplement Verification process.
"It's a huge leap forward for the microalgae industry in the United States, and in particular for our spirulina," said Uma Sudhan C.P, CEO of Valensa International. "We've continued to show our clients that our product is pure, furthering our company value of transparency and honesty."
With more than 4,000 metric tons of spirulina sold in 30 countries over several years, Valensa International and its sister company Parry Nutraceuticals, lead the industry in Organic Spirulina manufacturing, purity, certifications and supply chain management. Valensa International provides ingredients to food and nutraceutical companies that develop and market products to consumers.
What's the Process?
To earn the USP Verified designation, Valensa passed a number of tests, including the following critical milestones:
Implementation of a program to comply with Hazard Analysis and Risk-Based Preventive Controls for Human Food (HARPC)
Implementation of a Supply-Chain Program
Compliance with Sanitary Transportation requirements
Preparation implementation and oversight of a written Food Safety Plan
Parry Organic Spirulina is a blue-green algae and versatile superfood that supports overall health including the eyes, brain, cardio-vascular, and gastro-intestinal systems. Spirulina is considered the best complete source of plant protein, in addition to containing beta carotene, gamma linolenic acid, B-vitamins, minerals, chlorophyll, sulpholipids, glycolipids, superoxide dismutase, phycocyanin, and enzymes. In contrast to most vegetable matter, Parry Organic Spirulina from Valensa does not have a cell wall made of cellulose, thereby making it easily digestible. Moreover, spirulina supports gut health. Parry Organic Spirulina's prebiotic effect helps maintain the healthy micro flora needed for digestion, liver detoxification, absorption and immune health. With its antioxidants, phytonutrients, essential fatty acids, and prebiotics, Spirulina is one of the healthiest ingredients on the planet.
ABOUT USP
The United States Pharmacopeia (USP) is a scientific, nonprofit organization that helps set federally recognized public standards of quality for medicines, dietary supplements, and foods. The USP Verified mark means the supplement has been independently tested to confirm the product meets USP quality standards. Although not part of government, USP standards are recognized in US Law and USP works closely with the U.S. Food and Drug Administration (FDA). Except for new ingredients, dietary supplements do not need to be approved by the FDA before they are marketed and USP standards are voluntary. USP standards are published in the United States Pharmacopeia which is recognized as an "official compendia" in the U.S. and used in 140 countries worldwide.
The USP Verified Mark Indicates:
The product contains the ingredients listed on the label, in the declared potency and amount.
The product does not contain harmful levels of specified contaminants.
The ingredients will break down and release into the body within specified amount of time.
The product has been made using safe, sanitary and well-controlled manufacturing practices according to U.S. Food and Drug Administration and USP guidelines.
Valensa International will be exhibiting at SupplySide West
in Las Vegas, November 8-9, 2018.
Since 2003, Valensa International has complied with all international organic standards, and avoided using genetically engineered ingredients. Since then, the company was the first vegan nutrient-based organic spirulina compliant with USDA-NOP regulations, and the first Non-GMO Project verification as well. Now, Valensa International's Parry Organic Spirulina has the USP Verified mark for US and Canada distribution. Valensa continues to focus on science-backed, proprietary ingredients from botanical and algal sources, targeting indications such as joint health, immunity, super foods and eye health.